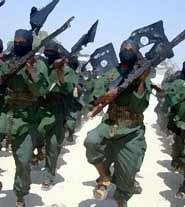 MI5 states that the security level in UK is sever.
The impact of foreign policy decisions have seem to enflamed the dangers on the home front further. The complexities of the Middle East conflict have seemed to overtaken the processing powers of the policy makers .The seemingly unexplainable position in arming and training various armed factions with sophisticated weaponry in the shifting sands of loyalties and zigzagging policy positions have clearly increased the risks in UK.
The UK's position is further undermined by the fact that some of its allies and partners in the region have for some time financed and assisted the hard line Sunni Islam sect that have fuelled ISIS in its atrocities.
Furthermore the same sponsors have been allowed for over two decade to finance their own particular Islamic sects (Wahhabi & Salafi) in UK by Building mosques and appointing Imams to propagate their version of Islam. This has set the scene for birth of Islamic radicalism in UK.
This has led to UK born jihadists and terrorist who not only travel to fight for ISIS but also are the main reason for the UK security level being set to SEVER.
The only way forward is a complete realignment of policies of western powers in the region allied with reappraisal of the origins of security threats and risks in UK.
https://www.sqrgroup.com/wp-content/uploads/2015/04/terrorisim.jpg
207
185
Poorang
https://www.sqrgroup.com/wp-content/uploads/2018/05/sqr-logo.png
Poorang
2015-04-13 15:07:59
2015-04-13 15:07:59
Terrorist attack is highly likely in UK